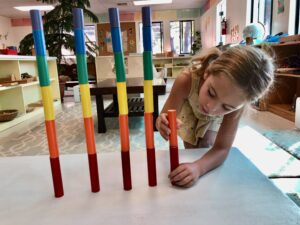 gmh Today, Fall 2023, "Brain Building: Research Supports a Playful Approach to Preschool – Kindergarten Learning," by Hema Walker.
Imagination is more important than knowledge. For knowledge is limited to all we now know and understand, while imagination embraces the entire world, and all there ever will be to know and understand. – Albert Einstein
Everyone knows that young children love to play, but the latest in brain research clearly shows that children need to play in order to develop the skills that are required for success in academics and into adulthood. This knowledge guides the heart of high quality programs for young children by providing an engaging, creative, hands-on curriculum in a rich environment with plenty of free play time to explore the outdoors and develop friendship skills.
In the Mount Madonna School (MMS) preschool and kindergarten programs, teachers consider play to be an essential component and balance to the age-appropriate academic curriculum. Our approach to teaching the ABCs and 123s incorporates movement, song, storytelling, art and outdoor exploration, thus providing meaningful experiences that satisfy the young child's curiosity and need to engage playfully in their learning explorations. While reading readiness and number sense skills are inherent in our activities throughout the day, we let these skills develop at each child's pace by challenging each child at their own level, and not pressuring those who need a little longer to develop these abilities.
Whether it's grinding acorns for the squirrels in the forest, building a spaceship out of blocks, baking "cakes" in the sandbox, or creating play props in the art area, opportunities for child-directed play permeate Mount Madonna's preschool and kindergarten experience. The developmental needs of the whole child are addressed, supported by low student-to-teacher ratios, and with teachers poised to help the children express their ideas, negotiate positive solutions when conflicts occur and guide them in the core values of kindness and compassion. Read more (article begins on page 54)