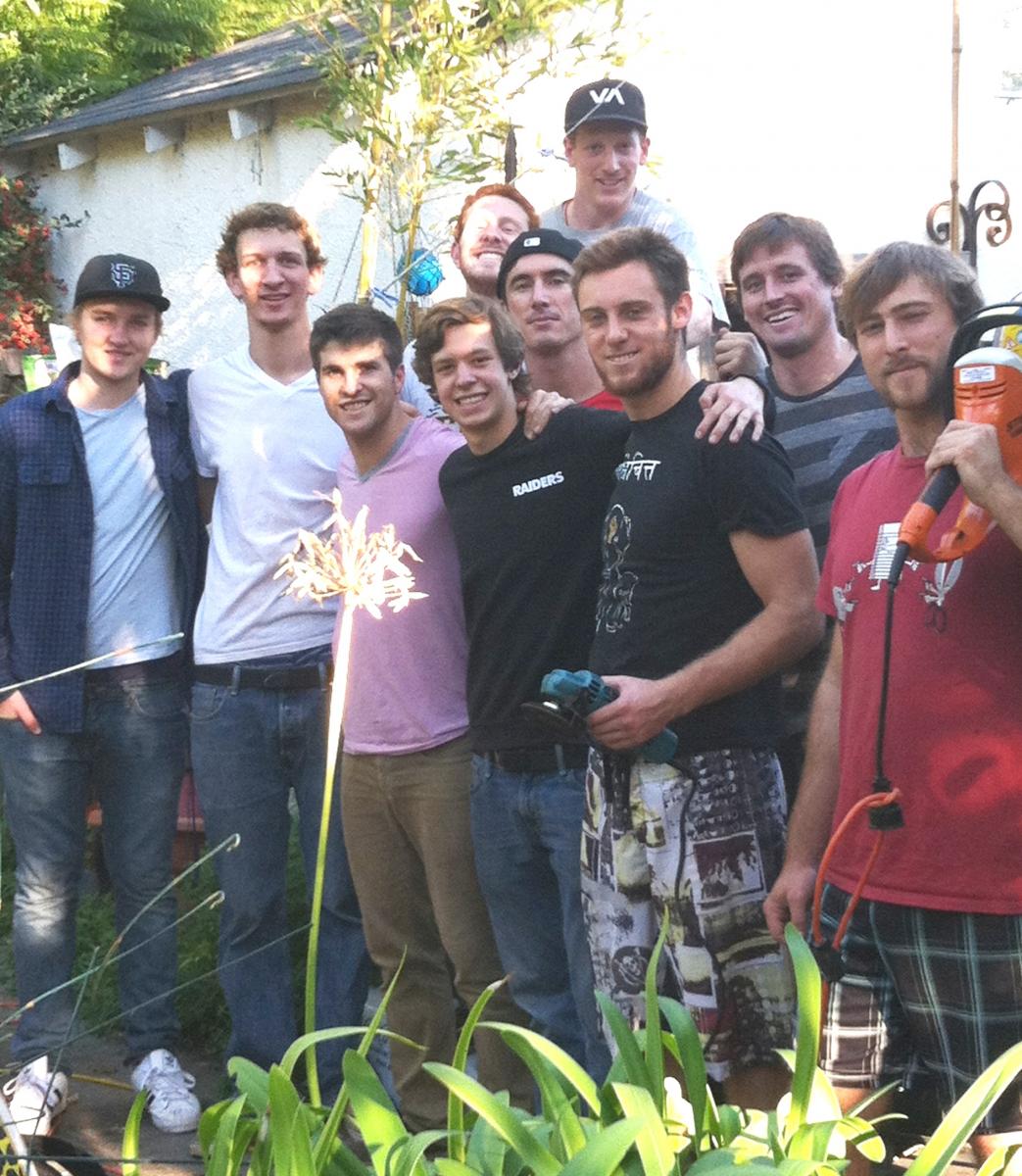 On Friday, November 29, a small group of MMS students and alumni gathered at the home of friend and teacher Melissa Sanders-Self, for an impromptu 'work party' to help out as Sanders-Self recovers from cancer surgery. Melissa sent the following 'thank you' to share publicly in recognition of her great appreciation for the generous spirit of those who came to help.
Thanks to MMS teacher and alumnus PK McDonald ("04), student Roger Hooker (12th) and his mom, Janine Roeth, for organizing the most amazing yard clean-up EVER over Thanksgiving break!  A group of Mount Madonna students including seniors Curtis Clausen, Roger Hooker, Jay Ward, Sophie Kamkar and Talia Speaker; and alumni, including: Bodhi Shaffer ('08), Chris Fust ('08), Daniel Fust ('13), Daniel Nanas ('07), Jonji Barber ('07), Mike Lightner ('02), Naveen Hattis ('08), and PK Hattis ('11) — all showed up after Thanksgiving to battle 10 years of ivy and overgrowth in my yard. Talia and Sophie kept me from micro-managing with tea and cookies in my living room.
At the end of the day, my visiting sister-in-law from England said 'I didn't even know you had a big yard'; which was an appropriate response, given the 'overgrowth' that has consumed us and our environment for years. It takes many hands to make the 'largeness' that is possible at our house, visible.
It's easy to believe we don't need other people and that we can do everything by ourselves, but that is not the truth. It was inspiring to see the students who spanned 10 years of MMS graduates bonding around the same desire to help a teacher who had many different meanings to them. They had to trust one another that they really did have something in common through studying with me. Asking for help and working together creates actual change—from my garden, to the rules of our government, to choices in life.
I cried when I saw my plant-able beds again. Spaces I had given up on are suddenly present in my life. As often lately, there are no words to express how much it meant to me to see my past returned to me, ready to be planted with a new future.
LOVE to you all!  I feel blessed to have you in my life.
Thank you deeply. Missing everyone and sending love to all,
Melissa